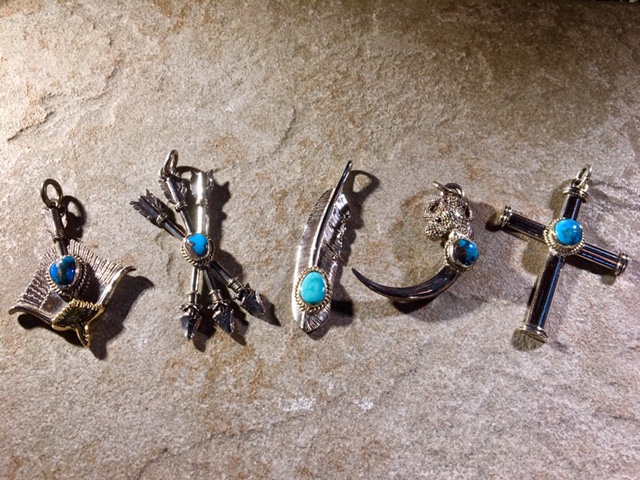 -What is LFC?
LFC (Lowry Family Collection) is selling high quality jewelries produced by Joe Dan Lowry, the world's leading authority on turquoise. He supervises and grades a lot of museum materials on turquoise (Heard Museum, Smithsonian Museum, San Diego Museum of man etc.). Also, he presides Turquoise Museum in Albuquerque, New Mexico.LFC produces turquoise jewelries with artists having technique of excellence and sells them. Price is appropriate for its carat, grade, or lapidary work of artists.
LFC uses the turquoise Joe Dan well selected and issues LFC-proprietary expert evidence and warranty only for the products produced by jewelry artists who agree with Joe Dan's intent. Since He's expert evidence and warranty are only issued for LFC, we are able to clearly distinguish LFC jewelries from others.
Joe Dan produced LFC to set a standard of turquoise, which hadn't existed before. He hopes that turquoise will be used and recognized more not only as American casual items but also as other fashion's ones.
-Who is Joe Dan Lowry?
Joe Dan Lowry is internationally known for his knowledge of turquoise and accuracy of grading. He's also famous for high technique of mining, cutting and polishing stones to make them jewelries.He's had interviews with collectors, artists, museums, and people engaged in mining stones from all over the world to deal with them and broaden his view. In addition, he's been studied with geologists, mineralogists, and archaeologists and he's browsed extremely valuable samples.
He's published two books, "TURQUOISE" and "Turquoise Unearthed"(written by Joe Dan Lowry, Joe P. Lowry) before, and turquoise that his family has, unearthed from over 100 mines, is put into the world by Joe Dan's knowledge and processing technique.
Today, he's doing turquoise buying and selling, he's family business of four generations in Albuquerque, New Mexico while maintaining energetic activities of events such as presentation about turquoise or grading stones as a curator of Turquoise Museum and an owner of enchantment mine in Albuquerque.
He raised donation as a member of Indian Friendship Project, reconstruction assistant by American Indians, when the Tohoku Earthquake occurred. He made a round of visits in devastated area and he's spreading the need to support the area all over the world.
Summary of Stones
Number 8
Native of Carlin, Nevada
Mining began in 1929 and closed in 1976.
Most in the market are pale blue, and the grade goes up when the blue gets darker.
The highest quality turquoise had been found in the No. 8th mining area, and this is named after the story.
ROYSTON
Native of Esmeralda County, Nevada
Mining began 1902.
The highest-grade are green like Jade, and have a golden/brown matrix feature.
FOX
Native of the Cortez, Nevada
There is a saying that it was originally mined by Native Americans.
It has a long history and this is one of Nevada's most mined place.
It has been called FOX since 1941.
Rich forest green is mainstream, but there are also bright sky blue one.
BISBEE
Native of Bisbee, Arizona
What started off as mining copper in the 1950s brought the discovery of turquoise.
Its feature is a deep blue color with a distinctive misty purple matrix.
As the grade goes up, the gloss and the deepness of blue increase, and also the hardness gets higher.
The scarcity value is so high, and it is well known for the world's Top 5 turquoises.
TARQUOISE MOUUNTAIN
Native of Kingman, Arizona
It used to be called Aztec Peak or Aztec Mountain. 
It is the last mining commercially producing mine in the US.
These are characterized by a wide range of color, from blue to green.
There is high probability that the spiderweb matrix will come out when polished.
MORENCI
Native of Southeastern of Shannon Mountains, Arizona
It has a long-lived mine record of being mined in 1864.
It has been mined for a long time, starting in 1864, and has a long-lived history.
There is a wide range of color from royal blue to greenish stones.
A deep blue / Pyrite matrix is highly rare, and it is considered the higher grade level.
BLACK WEB MATRIX GEM
Native of Esmeralda County, Nevada
It has very interesting history. The mine closed after a small amount of mining in the early 1900s, and then re-mining started 2013.
As the name speaks for itself, the turquoise has a black spread matrix.
The balance of clear blueness and the black matrix is considered to be of value, and it makes the grade go up.
RED MOUNTAIN
Native of Eastern Calico Lake Valley, Nevada
It is a relatively new mine discovered in 1970.
The popularity from collectors is very high because of its beautiful spiderweb.
How the black matrix in beds itself makes its grade level higher.
LANDER BLUE
Native of Indian Creek, Nevada
Found in 1973. It has very young history.
Because of its rare value, it is called the world's Top 3 turquoise.
The characteristic by the fact that it is the most of these stones have a black matrix.
The grade goes up as the beautiful spider web blends in.