Magazine information published!
I am planning to announce the publication of the magazine today,
As it is in the title, this posting is a new work of "2016 Fall & Winter"!
Although I announced it for a while ago, I have kept you waiting, this is the first public release in Japan!
Let's introduce it soon! It is here that you posted!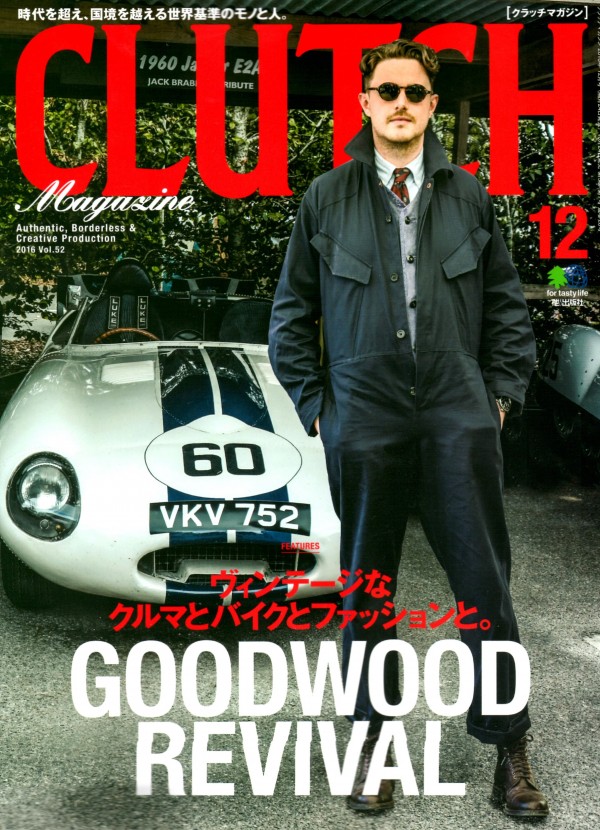 "CLUTCH magazine 12″
Then it is an announcement of a new work to worry about!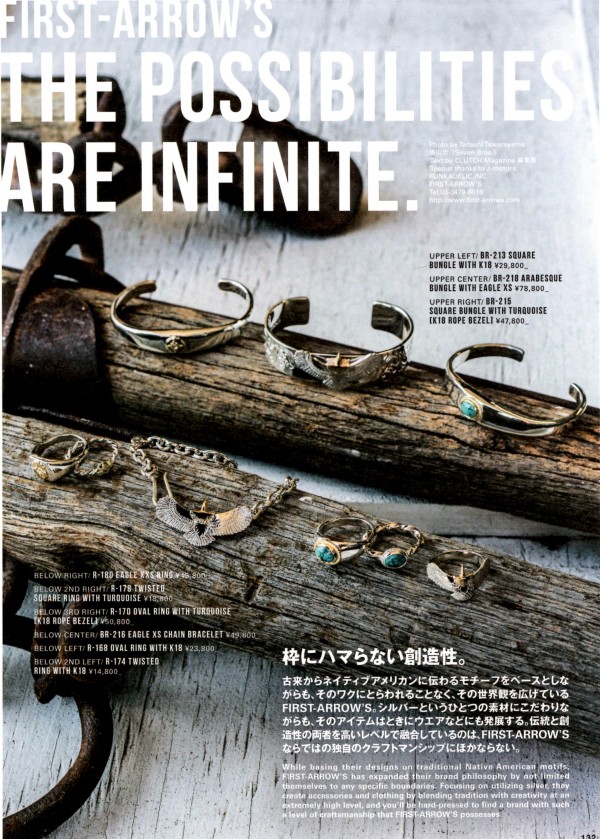 First of all, it is a ring · bangle!
This time, the overall finish is simple, items that you can enjoy with unisex are completed!
And did you notice? Eagle appears in a new size!
It is even smaller eagle than ever!
From the top left clockwise
BR – 213 K18 Square stamp bangle ¥ 29.800 -
BR – 218 Eagle 'XS' with arabesque carving bangle ¥ 78.800 -
BR – 215 Square stamp bangle with turquoise "K18 rope bezel" ¥ 47.800 -
R-180 Eagle XXS ring ¥ 47.800 -
R-178 Square twisted ring with turquoise ¥ 18.800 -
R-170 Oval stamp ring with turquoise "K18 rope bezel" ¥ 50.800 -
BR – 216 Eagle 'XS' chain bracelet ¥ 49.800 -
R-168 K18 with oval seal stamp ring ¥ 23.800 -
R-174 Twist ring with K18 ¥ 14.800 -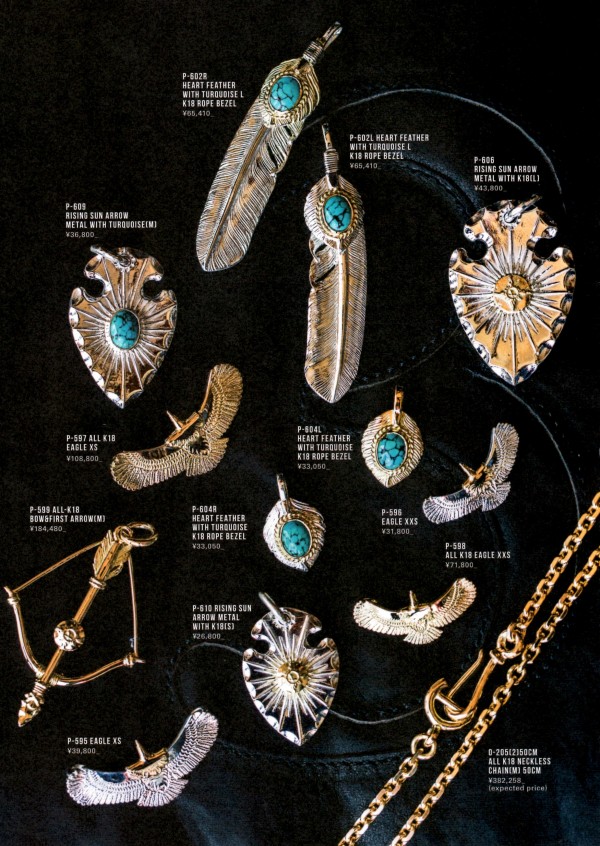 It is a pendant top!
As I mentioned earlier, Eagle's "XS" "XXS" size appears!
Because it is quite small, it is an item that can be used in various ways!
We will introduce custom examples at a later date so please look forward to it ♪
And the feather and arrowhead NEW version is also released!
Everything is cool, easy to match so custom widths spread with guns!
Feather with P-602R turquoise with heart feather (L) "K18 rope bezel" ¥ 65.410 -
P-602L Feather with heart feather with turquoise (L) "K18 rope bezel" ¥ 65.410 -
P-606 Rising Sun Alloy Metal with K18 (L) ¥ 43.800 -
P-609 Rising Sun Arrow Metal with turquoise (M) ¥ 36.800 -
P-597 ALL K18 Eagle XS ¥ 108.800 -
P – 604L Heart feather with turquoise "K18 rope bezel" ¥ 33.050 -
P – 604R Heart feather with turquoise "K18 rope bezel" ¥ 33.050 -
P-596 Eagle XXS ¥ 31.800 -
P-598 ALL K18 Eagle XXS 71.800 -
P-610 Rising Sun Alloy Metal with K18 (S) ¥ 26.800 -
P – 599 ALL – K 18 Bow & First Arrow (M) ¥ 184.480 -
P-595 Eagle XS ¥ 39.800 -
O-205 (2) 50 cm ALL K18 necklace chain (M) 50 cm
* Expense (as of October) ¥ 382.258 -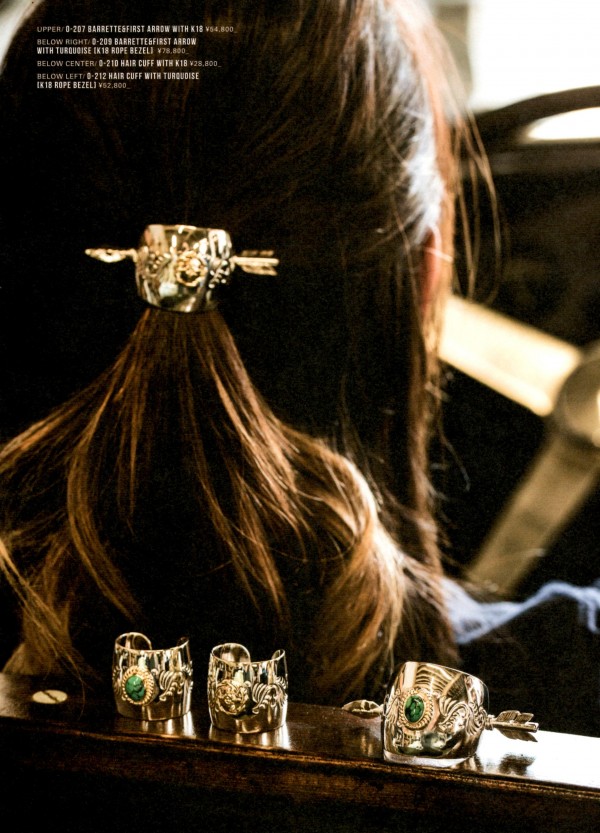 Next is the appearance of Valletta & hair cuff! This is a gem that you can use regardless of gender in particular!
Even if you use it in pairs, it is ideal for gifts and fashionable items with First Arrows flow are ready!
O – 207 with K18 Valletta & First Arrow ¥ 54.800 -
O-209 Valletta with first turquoise & First arrow "K18 rope bezel" ¥ 78.800 -
O – 210 With K18 Hair cuff ¥ 28.800 -
O-212 Hair cuff with turquoise "K18 rope bezel" ¥ 52.800 -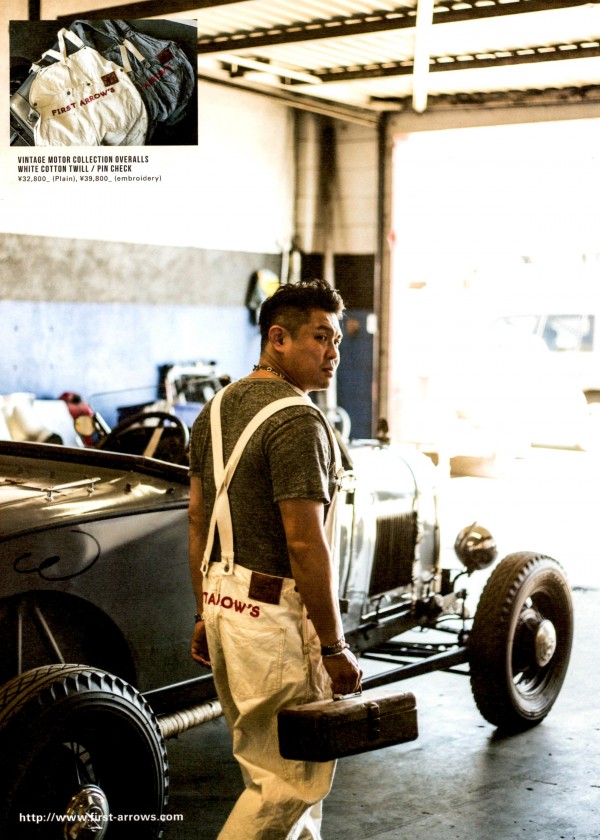 And what a season this season! Overalls will also be released!
Release from the category of "Vintage Motor Collection"!
It is fashionable overalls as a casual wear, as well as getting to wear your car when it is idyll!
The color is a two-color expansion of a quinile (¥ 32.800 -) and a pin check (¥ 39.800 -)!
Who do you like, No! Please come by all means (laugh)
Well, I've introduced you with the rush, but this time the new work is also cool!
As sales start from November, please wait for a while ♪
First of all, please check and please consider which one you will get from!
We also accept reservations, so please contact us!
TEL 03-3479-8818
Mail info@first-arrows.com
Then, please check with "clutch magazine" until sales start ♪
Since you can introduce the real thing of a new work before selling,
Please come to Harajuku head office and take the real thing in your hand ♪
We are waiting for everyone's visit!