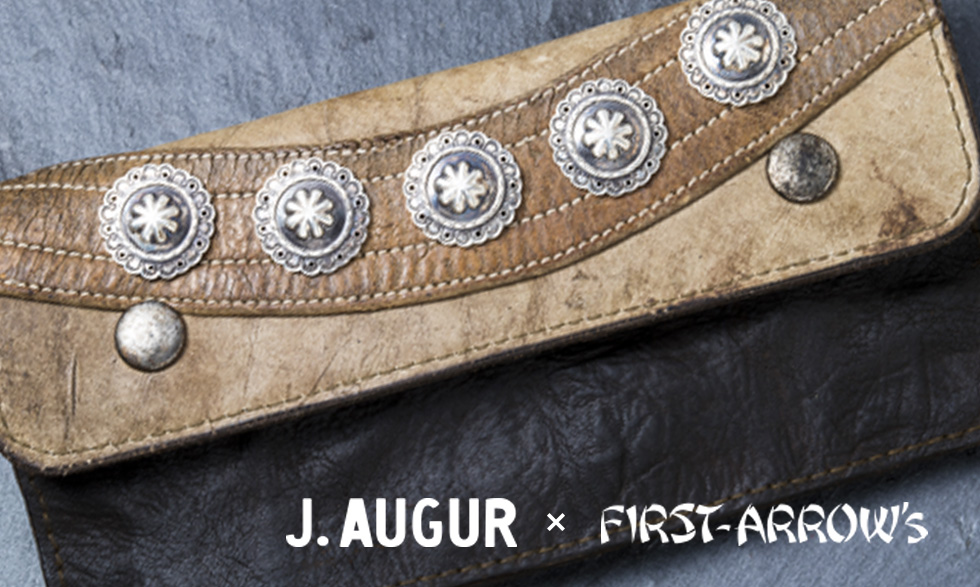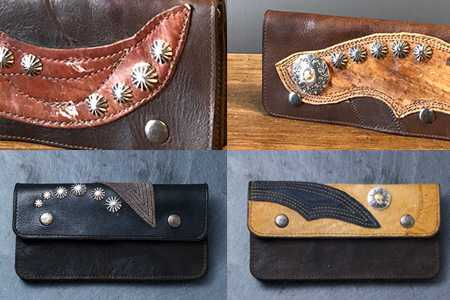 【J. AUGUR DESIGN:ジュディ オーガー】
アメリカのカリフォルニア州を拠点に、ヴィンテージディーラーを経てジュディ・オーガーが2004年にスタートさせたブランド。バッグやベルト、アクセサリー等、アイテムは全てジュディのデザインによるもので、特筆すべき点はオリジナリティあふれる素材使いにある。アメリカ先住民の伝統工芸品であるラグ、ミリタリーキャンバス地、デニム、アンティークのレザー等、使用する素材は、アメリカを象徴するヴィンテージ・マテリアル。そして背景やテイストの異なった素材を組み合わせる、あるいはステンシルによるプリントを施す等独自の手法を駆使。その斬新なセンスが、J.AUGUR DESIGNの魅力的な個性になっている。ジュディがカリフォルニアに構えるアトリエは少人数体制で、彼女が製作の全工程に関わるという徹底ぶり。しかもバッグからアクセサリーに至るまで、オールハンドメイドで同じ物がない全てどれもが一点物。
【J. AUGUR DESIGN】
J.AUGER DESIGN was founded by Judy Auger in 2004, after her experience as a vintage dealer in California. All of the items such as bags, belts and accessories are all designed by Judy herself, distinctive for their creative usage of materials. The materials that she is fond to use represents the spirit of America, such as traditional rags of Native Americans, denim fabric, military canvas and antique leather. The way she puts together different fabrics of different backgrounds, or how she prints them with stencil is completely unique and novel, which is what characterizes the J.AUGER DESIGN brand. The studio in California is run by a handful of staff, and Judy includes herself in every step of the construction to maintain quality. Every single item is completely handmade and original, and is a one of a kind.
Products

No.1 size:W21cm×H11cm


SOLD OUT


No.2 size:W21cm×H11cm


SOLD OUT


No.3 size:W21cm×H11cm


SOLD OUT


No.4 size:W21cm×H11cm


SOLD OUT


No.5 size:W21cm×H11cm


SOLD OUT


No.6 size:W21cm×H11cm


SOLD OUT


No.7 size:W21cm×H11cm


SOLD OUT


No.8 size:W21cm×H11cm


SOLD OUT


No.9 size:W21cm×H11cm


SOLD OUT


No.10 size:W21cm×H11cm


SOLD OUT


No.11 size:W21cm×H11cm


SOLD OUT


No.12 size:W21cm×H11cm


SOLD OUT


No.13 size:W21cm×H11cm


SOLD OUT


No.14 size:W21cm×H11cm


SOLD OUT


No.15 size:W21cm×H11cm


SOLD OUT


No.16 size:W21cm×H11cm


SOLD OUT


No.17 size:W21cm×H11cm


SOLD OUT


No.18 size:W21cm×H11cm


SOLD OUT


No.19 size:W21cm×H11cm


SOLD OUT


No.20 size:W21cm×H11cm


SOLD OUT

Regula bucket size:H13×W12×4


SOLD OUT


Regula bucket size:H13×W12×4


SOLD OUT


Regula bucket size:H13×W12×4


SOLD OUT


Regula bucket size:H13×W12×4


SOLD OUT


Regula bucket size H13×W12×4


SOLD OUT


Regula bucket size:H13×W12×4


SOLD OUT


Regula Tote size:H13×W19×5


SOLD OUT


Regula Tote size:H13×W19×5


SOLD OUT


Mini bucket size:H11×W11×3


SOLD OUT


Mini bucket size:H11×W11×3


SOLD OUT


Mini bucket size:H11×W11×3


SOLD OUT


Mini Tote size:H12×W12×4


SOLD OUT


Mini Tote size:H12×W12×4


SOLD OUT


Mini Tote size:H12×W12×4


SOLD OUT


Mini Tote size:H12×W12×4


SOLD OUT


Regula Tote size:H13xW19x5


SOLD OUT


Mini Tote size:H12×W12×4


SOLD OUT


Regula Tote size:H13xW19x5


SOLD OUT


Mini bucket size:H11xW11x3


SOLD OUT


Mini Tote size:H12×W12×4


SOLD OUT